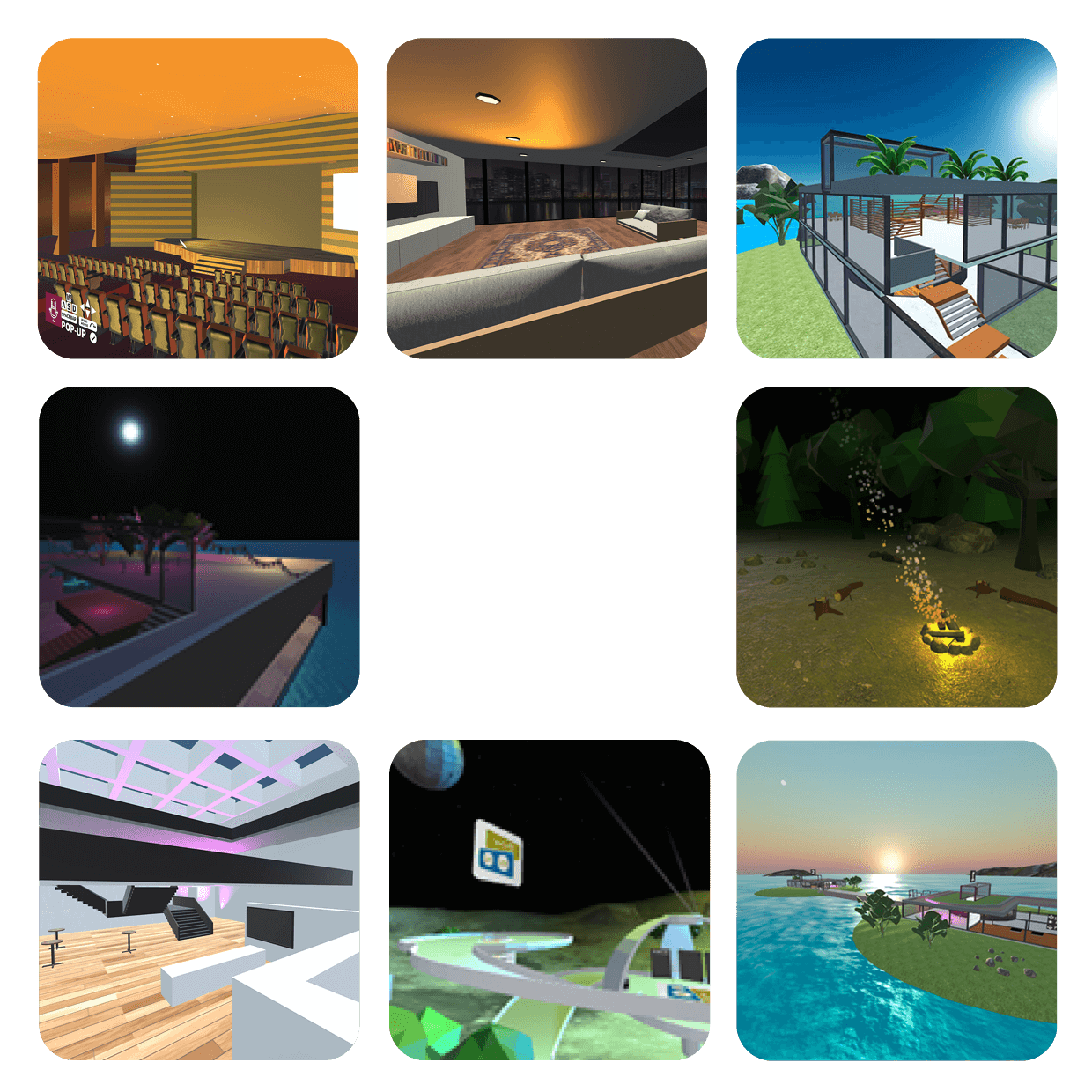 Events in Metaverse Space
organize events and meetings
Work on Conferance Island
networking and collaboration
Rooftop Party @ Sea
relax, dance and chat
Spoken Words Theatre
speaking, lecturing and presenting
Fairytale Forest
telling stories and being together
Good conversations in the City Skyline Lounge
relaxed talking and discussing
EXPO Artist in Residence
Exhibitions and Art
Dance Down the Basement
Mixed Styles Dancing
Teamplay at Archipelago Sunset
team-sessions and development
Virtual Gym
Practice in VR
Book your Private VR MetaSpace (9 spaces)
This product is not available in the selected currency.
In Stock
Backordered
Out of Stock
Description
A day in your own Private Virtual MetaSpace is easy! Pick your own room as individual or as group. Optionally, with design-customisation and guidance of our moderator/host.
Order in two ways and start immediately:
As individual visitor all the spaces are yours. You can switch between them. You share these spaces with other individual visitors.
As group you get your own private room with a maximum of 40 visitors per room. Connecting multiple rooms is possible.
Need more days? Then increase the quantity of this order.

Need more MetaSpaces? Order again and select another MetaSpace. Of course, Customization and Moderation only needs to be ordered once. On your request we connect these spaces with each other, so that visitors can jump between them.
After the ordering process, the private link can be downloaded in your account. This download is valid for one day.
IMPORTANT: With Customization and Moderation, we need to prepare your event together, such as delivering the logo and video-links or accommodate the date and time to moderate/host your event. If you have questions, you can always contact of call us (Dutch/English) before you order. Else we contact you after placing the order.
Other questions or more customization needed? Contact us. We help you preparing a professional hybride experience!
VR glasses are not necessary. These MetaSpaces can also be visited with a computer or smartphone. If you use VR-glasses, then open the MetaSpace-link (see download) in the browser-app of your VR-glasses.
No account or login required

Hosted on private server in the Netherlands

Without collecting user data.

Only a browser is required
Details
Range:

1 day

If individual:

Access tot all MetaSpaces, shared with others

If group:

Own private MetaSpace for max. 40 visitors

Options:

Customization & Moderation/Host

---:

---

SPACE City Skyline Lounge:

Relaxed talking and consultation in VR

SPACE Conference Island:

Organize theme days, workshops or team events in VR

SPACE Metaverse Space:

Fly around in this VR event Space Metaverse

SPACE Spoken Word Theatre:

Give performances, presentations or show films in VR

SPACE Rooftop Party @ Sea:

Have a drink, party and celebrate on this beautiful roof terrace by the sea in VR

SPACE Fairytale Forest:

Relax and Mindful in the virtual forest. Relax in VR

SPACE Expo Artist in Residence:

Exhibit art, science or visual work in VR

SPACE Dance to the Basement:

Organize Dance events, parties and performances in VR

SPACE Archipelagio Sunset:

Organize theme days, workshops or team events in VR
Helaas...
Sorry, it looks like some products are not available in selected quantity.


ABOUT US

We facilitate an innovative, safe and hybrid way of working together in virtual reality. Regardless of time and place. As pioneers in new media and technology, we build a future-oriented way of working.
Clients: